This year in our greenhouse I introduced community to variety of heirloom tomatoes.
Lets start with Heirloom 101.
Definition:
1. A cultivar of a vegetable or fruit that is open-pollinated and is not grown widely for commercial purposes. An heirloom often exhibits a distinctive characteristic such as superior flavor or unusual coloration.
2. A horticultural variety that has survived for several generations usually due to the efforts of private individuals .
Honestly that was quite brave approach since community is pretty conservative. But I believe what I do and I believe that going back to basic tomato is wise choice.  And here is some great discoveries that I grew (and had plants for sale too earlier this season).
Aunt Ruby's Green German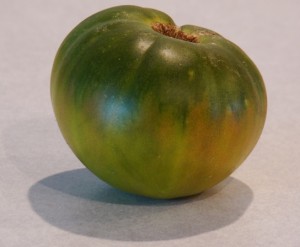 This tomato is real mind blower!  Unusual color makes it dinner table conversation piece. Low acid slightly salty mild flavor melts in the mouth. It is perfectly balanced taste so no need of pepper or salt. Large fruit makes it perfect for sandwiches, burgers and everywhere where you need just slice of flavor.  Most common question I got from people was "How do you know when it is ripe?" There is few indications 1. Ripe tomato is soft to touch. 2. Some of them get slightly orange shade on the sides (it depends how exposed fruit was to the sun).
This tomato is great reward for people who get outside box (red tomato box) and try out this great tomato. Aunt's Ruby Green German already found respectful place in our garden 🙂
Great White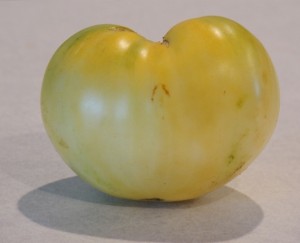 The name tells it all. This tomato is large size. It is pretty early variety. Tomato turns light yellow color when its ripe. Sometimes has few green streaks. Its flavor is sweet and mild. Great choice for people who looking for low acid tomato.  It takes just one tomato to make tomato salad!
Olga's Round Chicken Egg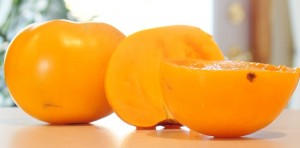 This tomato puts smile on a face just by reading the name. Who would call tomato chicken egg?! Lets look past funny name. This tomato it is nice and firm. It has slightly thicker golden skin. Fruits are medium size, almost perfectly uniform. Just beautiful tomato! It has slightly tart flavor. I would call it tomatoey tomato. Nice and juicy great for eating fresh. This semi-determinant plant is very heavy producer.
Rosalie's Paste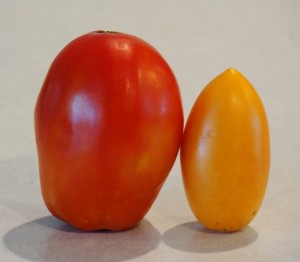 Just good paste tomato. Sometimes people gets confused what the "paste" means. So definition: a variety of tomato having oblong fruit that is often used in cooking. In our area most common are Roma or La Roma tomatoes. I had hard time convincing people that there is better varieties than that. But lets look at the picture. Rosalie's Paste vs orange Roma. Advantage is obvious! Same great salsa, pasta or pizza source, but less hastle dealing with small tomato. One of Rosalie's Paste tomato make up for 3 Roma tomatoes.  It is tasty to eat fresh if you like meaty tomato.