This year was my personal learning curve as far as growing eggplant. I always thought that this vegetable (which botanically considered to be berry) grows in tropical climates. But for my own surprise I been introduced to possibilities to grow it here in North Dakota. Apparently our short but dry and hot summer is long enough to get nice crops.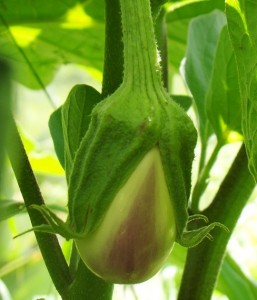 I picked out two kinds of eggplant seeds: Lavender Touch and organic Imperial Black Beauty. First one supposed to be earlier kind (63 days to maturity) and the second black kind actually recommended for milder climates and matures in 74 days.
I started my eggplant seeds on very first days of April. Temperature in greenhouse was maintained around 65 F at night and about 75 F through the day. It didn't took long for seeds to come up. In about 10 days I had little eggplant sprouts. They germinated pretty good, about 80% success. I had impression that it is very low maintenance plant. It was just growing. But according to the "book" it is very touchy plant, not easy to transplant and many little things might kill it. But again, I transplanted egg plant to the garden late July. All plants survived. They grew about 2 ft tall. By the end of July we had little eggplants in our garden.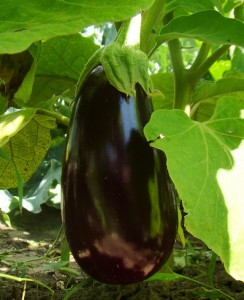 Towards the end of August we already have beautiful lavender and black fruits!  Both lavender and organic black seems to be producing. But in other hand you cannot call eggplant a heavy producer. For us its been more like one fruit per plant so far. There is still a lot of almost potato like blossoms on, but I am not sure if it will be enough summer left to make it to the fruit.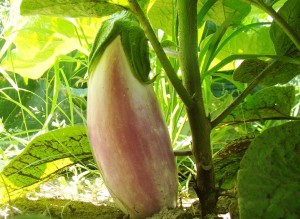 So why we should eat eggplant? There is so many tasty recipes in Mediterranean or more spicy Turkish or Asian cosine (if anybody interested in particular recipes don't hesitate and drop me a note). Eggplant is great alternative for meats in hot summer day.  And it lowers your cholesterol levels!  Good news for smokers… eggplant seeds contain small amounts of nicotine. If you really want to give away smoking habit you can replace it with eating eggplant. Just down side is to make up for one cigarette you need to eat 20 lb of eggplant…
Anyway, I would like to encourage you to try out grow and eat eggplant. It is a great vegetable, but for some reason it is been forgotten here in Northern Plains. Be brave to experiment with your garden. You will be amazed what you can grow!
Pin It