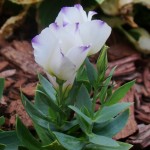 Lisianthus is native plant for southern part of North America and South America. Here in cold climates we grow it as annual plant. Colors of these flowers varies for deep purple to white, yellow and pink. Most common is  florist lisianthus. It is tall almost 3 ft plant. Long lasting blossoms and rose like flowers makes it perfect cut flower. Quite few times I caught myself staring at these gorgeous blossoms in flower shop as well.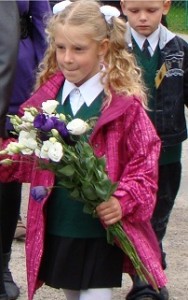 Unfortunately florist lisianathus is pretty hard to grow here in North Dakota, unless you have protected from wind flowerbed. Not very many taller plants actually can withstand wild winds in this area. This factor always drives me into looking for alternatives. And here I found it miniature lisianthus "Sapphire blue chip".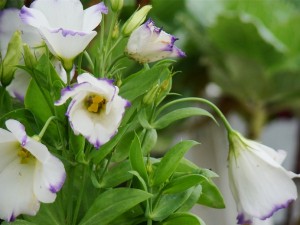 I started seed for this beauty in late January (yes, January). It took about a month for some seeds to germinate. Little sprouts were not fast to grow. Many times I had doubts if anything good will turn out of that. By the middle of June some of the plant started showing flower buds. By the middle of July I had beautiful miniature bushy plants (grows only 6-8 in tall) full of wonderful flowers. Even thou flower catalog said all flower should be white with purple frosting, some blossoms opened up pure purple color. Even if that wasn't what I expected, but sure were pretty. Due to compact growth wind is not an issue for this flower. It makes it great border plant in northern flowerbeds. Looks stunning in front of taller, later blooming plants like cushion mums.