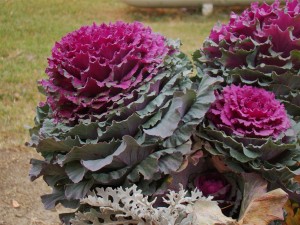 Selling plants in greenhouse I heard a lot of comments like "don't show me these flowers, I cannot eat them". But here is answer to this one! Ornamental kale or flowering cabbage it is absolutely stunning fall flower that you can eat if you want!
Here is a little bit information about this garden delight.
Flowering cabbage is the same family with regular cabbage. So I most cases it needs to be treated as cabbage. Diseases, pest and growing conditions are like regular cabbage.
Ornamental kales can be purchesed in many greenhouses or garden centers. If you are dedicated gardener you sure can start ornamental kale from seed.
Unlike most annuals planted in the garden through the growing season, ornamental kale thrives in cold weather. When the plants are acclimatized to the cold, they can withstand temperatures as low as five degrees Fahrenheit. Cold nights in October and November will actually intensify the typical blue-green outer leaves and brightly colored inner rosette typical of ornamental kale. These bright colors range from white, to pink, purple and even red.
Coloration doesn't begin until night temperatures regularly drop below 60° F, and full coloration takes three to four weeks. The plants need to be almost full grown when coloring time arrives. In short summer climates (like here in North Dakota) it is recommended to transplant ornamental kale outside in June. That gives it enough time to mature and be ready for fall show off.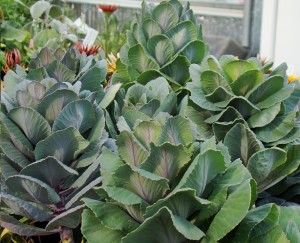 Quite often this plant got mistaken with succulents due to its sturdy, thick leave structure. In my greenhouse people were not very brave to try out this fall bloomer. This plant wasn't introduced in area before so it will take some time to earn its glory. It is sure revarding experience to grow this ornamental kale! Such a bright color splash in fading autumn gardens!
Since it is still warm August my ornamental kale still hangs on its silver-blue colored leaves. Even thou it is already looking very decorative. It is quite unexpected accent in flower beds that draws lots of attention.
Lets wait till cooler nights to arrive for more colorful pictures!
October 22, 2012. We had first snow and quite few below zero nights.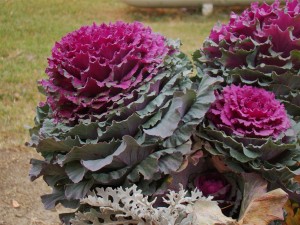 Pin It