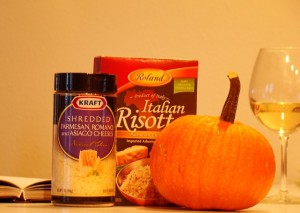 Days getting shorter and Halloween already past. Time to take some decorations down. Don't know what about you, but I found myself with few pumpkins left behind. So here it is my recipe how to use up some of them: Italian Risotto with pumpkins. 
For two of you:
1 package Italian Risotto rice (chose the one with seasoning added)
2 cups of water
1 cup of white dry wine
1 small pumpkin
2 cloves of garlic
1/2 onion
sage flakes
salt
pepper
olive oil
First preheat oven to 375 F. Peel and clean pumpkin. Cut it in cubes. Place pumpkin into oven suitable dish.  Split one clove of garlic into 4 pieces. Add it to pumpkin. Sprinkle it all with sage, salt, pepper and a little bit of olive oil. Place it in the oven and bake for 40 minutes.
While pumpkin baking, prepare risotto. Dice onion and second clove of garlic as fine as possible.  Add two-tree spoons of olive oil to frying pan and cook onions/garlic for 5 minutes on medium heat. Then add risotto rice and poor glass of wine. Stir it until rice absorbs all wine. Then add water little bit at the time. Stir rice all the time to make sure it is not burning or sticking to the pan. Continue adding water little by little until gone. By that time pumpkin will be done. Take it out of the oven and mix it in with rice.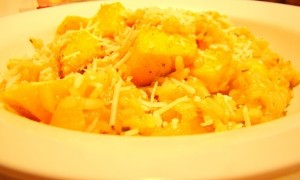 When serving sprinkle with shredded Parmesan.
If you cannot have a meal without meat, try serving risotto with fried chicken.
Buon Appetito!