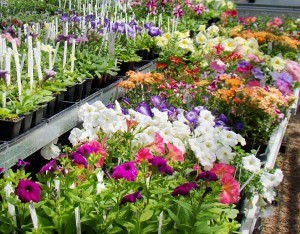 It is getting more and more confusing these days just to pick all time favorite Petunia for your summer garden. New names and kinds introduced every year and adds screaming that each of them is better than the one before. What is the real best choice?! As many other occasions in life there is no straight answer… Some do better in pots, some in the garden. Some have big blossoms but doesn't tolerate wind, some have small charming flowers and and do just right in summer heat. It is not the case when one fits all. I decided to do my part – do little research for my own knowledge and share it all with you. Hope that will help you to choose!
CALIBRACHOA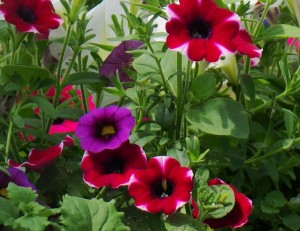 Like a tiny petunia on steroids, calibrachoa (also called million bells) grows and flowers at an amazing rate. Often confused for a petunia, million bells makes a splash no matter where you put it in the garden. It is perfect for containers or hanging baskets but also can be tucked into the front of a border where it will spill out onto sidewalk or patio. In fact, it may be the ultimate "spiller" for container gardens as long as you give it ample water and fertilizer, which it needs to fuel its astounding growth.
PETCHOA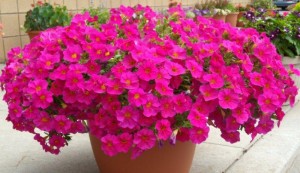 The Petchoa plant is an annual-lover's dream come true. A combination of the best characteristics of the petunia plant and those of the calibrachoa plant, the petchoa plant delivers unique colors, sturdy blossoms and non-sticky foliage. Petchoa inherits strong roots, sound pH tolerance, vigorous growth, large flowers and low maintenance from the petunia side of its family. From the calibrachoa side of the family, petchoa gets its intense and vibrant colors, strong flowers that hold up under severe weather conditions and the verdant, non-sticky foliage, as well as that refreshing, shipshape look without a lot of additional maintenance.
PETUNIAS
Grandiflora
This type of petunia has the largest flowers, up to 4 inches (100 mm) in diameter. Of all the petunias these have the widest variety of forms and colors but are the most likely to be damaged by heavy rain.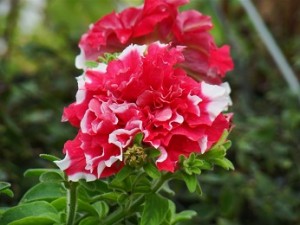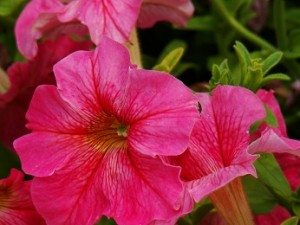 Hedgiflora (spreading)
Hedgifloras or spreading petunias (sometimes called ground-cover) are characterised by their low height (usually about six inches), but they have a large spread (about three to four feet). They will cover a large area, provided they have adequate water and fertilization.
'Wave' was the first introduced cultivar of spreading petunia and grows to a height of 4 inches.  Reaching up to 4 feet long, it's great as a groundcover or when cascading from window boxes and pots.
'Tidal Wave' is the tallest  (between sixteen and twenty-two inches) of the Wave family, award-winning Tidal Wave petunias create an extremely full plant covered with an amazing number of blooms. Plants first grow outward, then up, and finally in both directions to make an outstanding, shrub-like shape that continues to hold its form all season. An excellent landscape performer with terrific Botrytis tolerance and quick recovery from rain, the plants resist lodging so they won't fall open and expose a bare center like other petunias can.
'Easy Waves' have a more compact, mounding habit with a spread of 3 feet or less and height of 8 to 10 inches, making them an excellent choice for containers and small space gardens.  They bloom earlier than regular Waves under short day conditions.
'Avalanche' does not just flower on the tips or margins of the foliage but forms an avalanche of flower right across the plant.
'Surfinia' petunias are another type of spreading petunia propagated by cuttings.
'Opera Supreme' is a cultivar with large flowers.  Compact grow habit. Spreads up to 2′ or less.
Multiflora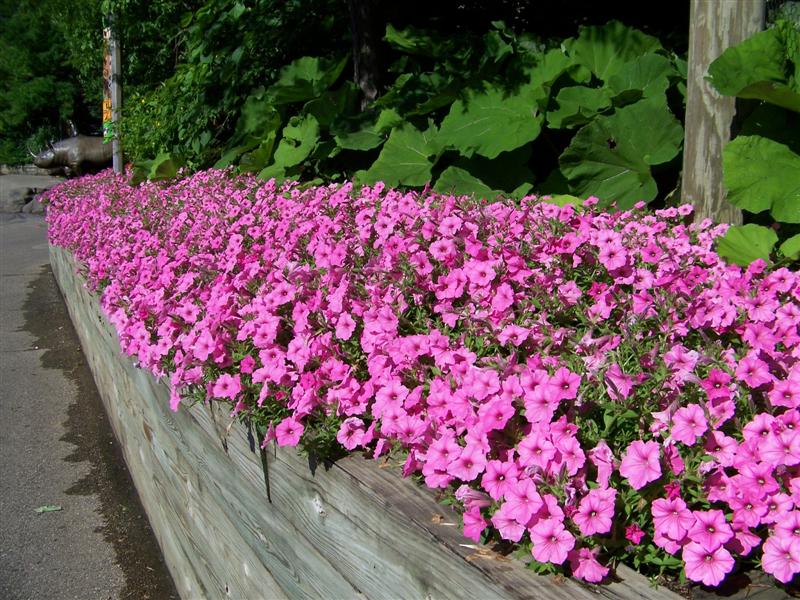 Multifloras are half the size of grandifloras, being 2 inches in diameter. They are not easily damaged in heavy rain and are more sun-tolerant.  They spread quickly and are ideal for baskets.

Milliflora
Millifloras are the smallest of the petunias, being about 1-inch across. These are commonly mixed with other plants in containers, along garden beds and edges. They tolerate harsh weather better when compared with grandifloras and multifloras.

Crazytunia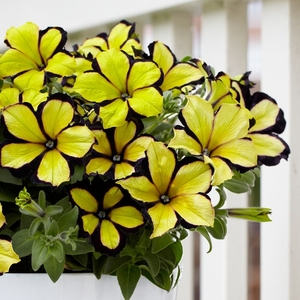 Sensational petunias in never-before-seen colour combinations! These compact, upright petunias have a robust habit and superb weather resistance which ensures a brilliant performance throughout summer.
Supertunia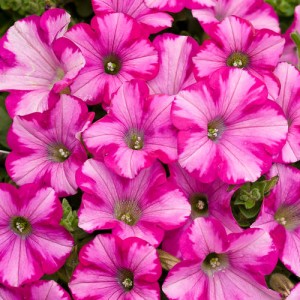 Intense color at your finger tips, with NO deadheading necessary! Supertunias® Petunias are not your grandmothers petunias. Grandma would have to deadhead, get her fingers sticky, and just spend lots of time 'tending' to her plants. The Supertunia® line of petunias are self cleaning, they 'bury their dead'. With their vigorous growth habit and tons of flowers Supertunia® just keep on giving all summer long.
Pin It