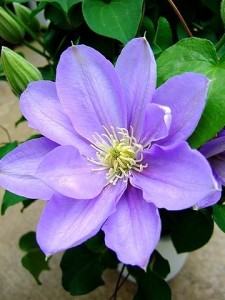 Clematis presents a challenge, because this woody climber is divided into pruning groups (1, 2, and 3), and each group has different requirements. Anyone who has played fast and loose with pruning a Clematis has come to respect those little group numbers!
Before You Prune Your New Clematis
First year of your Clematis's garden life, you need to do a special pruning. If you planted your Clematis last spring or fall, or if you've been growing Clematis without pruning it, please give it this first-year trim — it will make your Clematis more beautiful over its entire life.
Every variety, regardless of group, should be cut back to about 5 inches from the ground in late winter/early spring the first year after it is planted. You don't have to — it will certainly still grow and flower without ever feeling the snick of the shears — but if you want a bushier, stronger, tighter growth habit.
If your Clematis is in Groups 1 or 2, this first-year pruning means that you won't get blooms this year. These groups bloom on "old wood" (the previous season's growth), so you'll lose one season of color.
If your Clematis is in Groups 1 or 2, you should also do a special second-year pruning. Not everyone does this, but if you want a lush, many-stemmed, bloom-happy plant, the second year you should prune all stems back to about 3 feet from the ground in late winter/early spring.
If your Clematis is in Group 3, skip the second-year pruning.
Clematis Pruning Group 1
The Ramblers and Early Bloomers
Group 1 are the Clematis that bloom mostly on old wood (meaning the previous season's growth) and begin their flowering season in mid- to late spring.
The key to pruning Group 1 is that they don't require any pruning, but if you're going to do it, do it right after bloom. And, as long as you ruthlessly prune it right after flowering each year, you can cut off as much growth as you like. Whatever grows between the time you prune and the following spring probably won't bloom next year, but all the old wood will, and you can control the growth of ramblers beautifully that way.
 Prairie Rose doesn't carry type 1 clematis for Season 2013.
Clematis Pruning Group 2
The Big-Flowered Summer Bloomers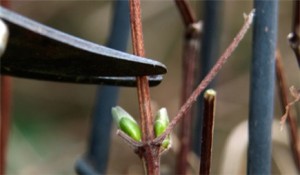 Group 2 Clematis blooms on "old wood," which simply means stems that grew last season or earlier. (This season's new stems — the ones that grow from spring till the summer bloom season begins — won't flower until next year.) Therefore, you don't want to prune too radically. The rule of thumb is that in late winter or earliest spring, cut back each stem about 6 to 8 inches, to right above the point where it branches. At this branching point, you should see a pair of little bumps. These are buds, and you want to keep them. Find all the branching stems on the Clematis and trim to just above those buds.
 Prairie Rose carries these type 2 clematis:
Clematis Bijou™ (compact Clematis)
Clematis Josephine™
Clematis Mrs Cholmondeley
Clematis Candida
Clematis Pruning Group 3
The Late Bloomers
Unlike other types of Clematis, Group 3 blooms on "new wood" (which means the current season's growth; if you keep last year's flowering stems on the plant, they won't set buds).
Late winter/early spring remove all the old growth until you're left with a couple of stems about 12 inches from the ground, you won't be sorry. Look for the place where the stem changes color a bit — that will be where last season's growth began. Leave just an inch or two of that new color, cutting away the rest.
Prairie Rose carries these type 3 clematis:
Clematis Avant-Garde™
Clematis Rosemoor™
Clematis Sir Trevor
Clematis Etoile Violette